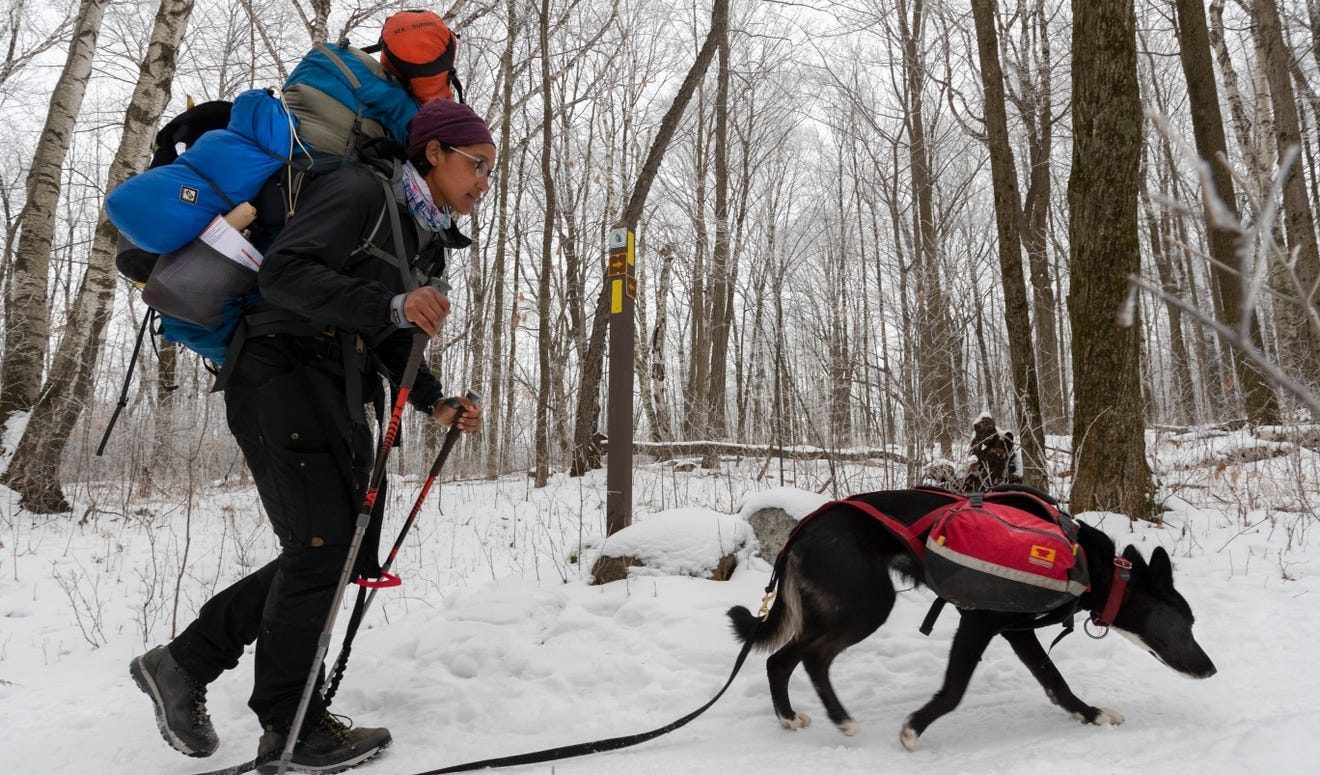 Emily Ford Completes Ice Age Trail Historic Winter Hike
Emily Ford completed a winter hike on the Ice Age Trail on March 6, 2021 after 69 days on the trail. She is the second person – and the first woman – to hike the trail in winter.
When Emily Ford set out to roam Wisconsin Ice Age Trail this winter, she was not nervous. "I tend not to worry, probably because of a foul," she laughs. It's an optimistic attitude that served her well on the snowy trail as she rode 1,200 miles through temperatures that regularly fell into the negative double digits over the course of 69 days.
The Ice Age Trail crosses Wisconsin from east to west, roughly following the glacial extents of the most recent ice age, known as the Wisconsin Glaciation, which ended approximately 10,000 years ago. The trail is a work in progress, with road trips connecting yellow-marked trails that wind through geological wonders and straight through towns.
Emily's choice to hike the trail in the winter was mostly a logistical choice. She is a gardener for Glensheen Mansion in Duluth, Wisconsin, and is fired from her job every winter. "The biggest dump of my shitbag dream is that I have such a cool job," she says, "and I'm just not ready to leave it yet." When she decided to hike the trail, it had been three years since she walked through the Upper hiking trail, and as she puts it, "I just wanted to get back on the track. I was determined. »
Confidence in the cold
Growing up in Minnesota and spending a lot of time gardening, snowmobiling, hunting and ice fishing, Emily is no stranger to having fun in the cold. But it was a backcountry dog ​​sledding and skiing trip with Wintergreen Dog Sledding Lodge which gave him the winter hiking itch. "That's when I felt the deep desire to want to sleep outside in the winter," she says. That trip, combined with a winter camping trip in a canvas-walled tent with a friend, gave her the confidence that it could be done, and for Emily, that was all she needed.

Borrowed, used and youtube
While preparing the track, Emily relied on borrowed and used gear as well as Youtube videos and online forums to fill in the gaps in her knowledge. "I'm 28, so I'm still paying off my student loans," she says. "And I have a mortgage. And I have a vehicle. I'm not rolling in millions of dollars here.
Emily's bag weighed 60 pounds and she slept in a 1989 Sierra Designs tent she borrowed from a former boss. "That's the same age as Taylor Swift if you're wondering," she says with a smile. "I feel like finances are one of the biggest hurdles for people to be able to go on rad trips like this," she adds. "So if you have a buddy who has things he's willing to let you use, borrow them 100 per cent. It's my philosophy.
A friend on the trail
Those who followed Emily's journey on Instagram know she wasn't alone. Emily went on a hike with an Alaskan Husky named Diggins that she borrowed from a musher she met on Facebook. "Talk about borrowing! I mean lending your gear to someone is one thing…" Emily said. "Letting someone borrow your dog in the dead of winter… like, she didn't even know me!"
Despite being virtual strangers, Diggins and Emily became fast friends. "Have you ever seen Castaway with Wilson volleyball?" asks Emily. "She was my Wilson, 100 percent." More than a vehicle for one-sided conversations, Diggins gave Emily a purpose on the track. "It made me a lot less selfish on the trip because I had to think about taking care of another being."
Share the experience
When Emily went hiking, she created an Instagram for her friends back home to follow her trip. A week later, she took her phone out of airplane mode and was amazed to see she had over 1,000 subscribers. Today, @emilyontrail has 11.5k followers and her story has been covered by dozens of outlets.
Emily hadn't originally planned to share her hike with the outside world. "It was hard at first," she explains. "But then I started to understand the importance of this trip, not only for me but for others. And the impact that this trip could potentially have. And it became more important than the fact that it was Emily's show, you know what I mean?
Online attention translated into real-world experiences for Emily as she drove through Wisconsin. Schoolchildren left welcome messages along the trail and invited her to speak to their classes. The families welcomed her and transported her. People have even traveled to walk with her and experience a small piece of the trail.
The magic of the trail abounded for Emily, who also took some adaptations. "Getting help from people was definitely an ego bust," she says. "Everything I packed for this trip, especially the food, was packed like I wasn't going to see anyone. So when people started offering different kinds of help, I was like, "No, I'll do it myself."
But doing it on her own took precedence over Emily after injuring her knee in the first week. "I got injured and had to rely on people," she explains. "So it was just about taking that selfish side of myself, putting it aside and focusing on the purpose of this journey which was to end. Then it was a lot easier to accept to ugly.
Emily Ford is the first, but not the last
Emily Ford's hike is historic in more ways than one. She is the first woman, the first black person and the first LGBTQ+ person to walk the Ice Age Trail in winter. Although she didn't intend her hike to be anything more than a backpacking trip, Emily takes the opportunity to inspire others to get out. "I just want people to feel good outside," she says. "How good it is for them to be there, no matter who they are."
"There's such a deficit of people of color on the outside that it's silly. It shouldn't be that way. If you don't check the normal boxes that you think should be checked to be a person who love the outdoors, it doesn't matter. You deserve to be outdoors too.
When asked what she thinks about making the story, Emily pauses and references the school children she spoke to on her trip. "I don't think I'll feel the weight of it until some of these kids are in their twenties and doing what they heard me talk about in fourth grade," she says.
"Here's the thing," Emily continues. "I'm just a backpacker. I just had a trip that seemed like fun… It's just something I like to do. Which is pretty cool, when your passion becomes something that makes history.
Related
Featured Image: Emily Ford and Diggins via Mark Hoffman/Milwaukee Journal Sentinel.
Affiliate Disclosure
This website contains affiliate links, which means The Trek may receive a percentage of any product or service you purchase using the links in articles or advertisements. The buyer pays the same price as they otherwise would, and your purchase helps support The Trek's ongoing goal of providing you with quality hiking advice and information. Thanks for your help!
To learn more, please visit the About This Site page.