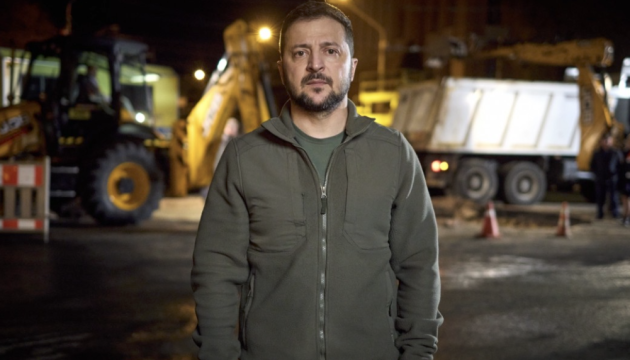 Every attack on civilian targets brings international consensus closer to Russia's responsibility
Each new Russian attack on Ukrainian civilian targets only facilitates and brings closer the international consensus on Russia's responsibility.
The relevant statement was made by Ukrainian President Volodymyr Zelensky in his video speech, reports a correspondent of Ukrinform.
The full text of the speech is provided below:
Good health to you, dear Ukrainians!
Currently, restoration work is still underway in the areas where Russian missiles hit today. We are doing everything we can to restore the energy and water supply. And we will restore it.
Russian terrorists do not have such missiles that could hurt the Ukrainian desire to live, to live in a civilized way and to take care of each other. What if someone over there in the Kremlin listened to their crazed propagandists and decided that darkness in Ukraine would help put pressure on Ukrainians, then let them not be surprised at their losses when they see how Ukrainians are waging " negotiations" in the dark.
Today, our air forces and everyone involved in protecting the skies did a great job. Most of the objects that the terrorists identified as targets have been saved. This morning alone, terrorists used 55 cruise missiles in a massive strike, 45 of which were shot down.
I thank all the Air Force Commands for this result: South, North, East and West, as well as all the units of the Defense Forces involved in the protection of our skies.
In addition, four other Russian helicopters were shot down today: three attack Ka-52s and one Mi-8.
Of course, we will continue to strengthen our air defense. But already now, for ten shots, terrorists have to spend at least four times more missiles. Russia has an even worse record when it comes to drones, including those provided by its Iranian accomplices. And the world sees it. She finds that the old "2nd World Army" is no longer even the 22nd in terms of efficiency. And we will do everything to reach the second hundred. And so it will be.
I would like to mention in particular the units and employees of the National Emergency Service of Ukraine, which last week and today eliminated the consequences of the terrorist attacks. They worked even despite the threat of repeated strikes and extinguished dozens of fires.
Huge gratitude to all energy workers, utility workers, local communities, regional governments – to everyone getting back to normal life.
Same recognition to those of our people who, each at their level, guarantee that there will be a response to terrorists.
There will be a response on the battlefield. And I want to remind you that the total level of personnel losses of the Russian occupiers is almost 72,000.
There will also be a response to terrorists in international relations. The complete international isolation of the terrorist state is only a matter of time.
There will be a response in the field of criminal responsibility – all those involved in Russian terrorism, all those who organized, executed and justified it, will be responsible for it before the international tribunal.
Each new Russian attack on our civilian targets only facilitates and brings closer the international consensus on Russia's responsibility.
And the fragments of the Russian rocket that fell on the territory of Moldova only remind us how important it is to protect ourselves together from this evil – from rashism, which recognizes neither state borders nor human values.
Today the Prime Minister of the Czech Republic visited Ukraine – one of our greatest friends.
The Czech Republic currently holds the Presidency of the Council of the European Union, and this is how Russia treats European structures: during the visit of the Czech representative – 55 cruise missiles. However, no matter what they think in Moscow, Ukraine takes care of itself and does what it wants.
Today we signed a special statement with the Prime Minister regarding our country's Euro-Atlantic integration. The Czech Republic confirmed that it would support Ukraine's NATO membership. The statement also contains specific directions for our cooperation in implementing NATO standards in Ukraine.
We are beginning to work on signing such declarations with all members of the Alliance.
I had a call with German Chancellor Scholz. I thanked him for the IRIS-T air defense system provided and informed about the results achieved by the German system. We discussed the possibilities of increasing German support for Ukraine, especially in the restoration of our infrastructure after the terrorist attacks.
I also spoke with the UN Secretary General, António Guterres. I informed him of the new level of escalation due to Russian actions.
The terror against Ukrainian energy facilities, moreover in the context of Russia's attempts to exacerbate the global food crisis, is a clear indication that Russia will continue to oppose the entire international community. And if so, Russia should have no place in the UN Security Council and all other international structures.
I am grateful to Mr. Scholz and Mr. Guterres for supporting our actions to preserve the grain export initiative and prevent the spread of large-scale famine in parts of the world. It is very important now to prevent this global destabilization that Russia seeks. And we can prevent it.
Today I signed three decrees on the allocation of our warriors. A total of 406 Ukrainian Armed Forces warriors received state awards.
I would like to separately thank the warriors of the units of the National Guard of Ukraine, who perform tasks in the Donetsk region. They execute them with precision and efficiency. They skillfully defend their positions and exert significant pressure on the rashists. Thanks for that, guys!
Thank you to all those who make Russia get used to the idea that neither the army, nor terror, nor anything else will help them to conquer Ukraine!
Glory to all our heroes!
Glory to our fantastic people!
Glory to Ukraine!
Photo: Office of the President of Ukraine